AE Composites
The World Leader in Advanced Composite Technology For the R/C Industry
To Contact AE Composites -Click Here !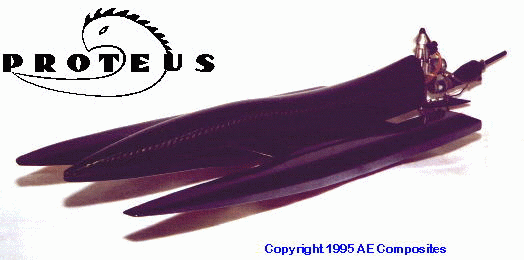 NEW FOR 1995-3.5 CC "PROTEUS " OUTBOARD TUNNEL HULL COMPUTER DESIGNED FOR TODAY'S HIGH PERFORMANCE 3.5CC ENGINES. THIS ALL-COMPOSITE BOAT FEATURES ADJUSTIBLE SPONSONS! AT 31" LONG, THIS BOAT WILL HANDLE ALL THE POWER THAT YOU CAN GIVE IT .....$599.00
CARBON FIBER TUNED PIPES FOR 3.5cc INBOARD OR OUTBOARD ENGINES
This race winning pipe was computer designed by six-time I.M.P.B.A. U.S. 1 competitor, Marty Davis. These are the only straight tuned pipes that you can put on your outboard that won't drastically change your boat's balance. (Typical balance point change is 0.0625"!!!) This pipe weighs in at about 1/2 oz. This is definetly the lightest and fastest pipe in the world!!!.....................$69.99
CARBON FIBER TUNED PIPE INFORMATION (3.5 cc I/B & O/B)
Thank you for interest in the most advanced tuned pipe in the world! The shape was computer designed on the Engine Analysis Program by 6 - time U.S. 1 competitor, Marty Davis, and is manufactured by AE Composites, the world leader in advanced composite technology for the R/C industry.
This design has been in use since May of 1994 and has won countless races already. It has great power and instant throttle response in all RPM ranges. Perhaps the most unique feature of the carbon fiber tuned pipe is it's extraordinarily light weight. Imagine a tuned pipe that weighs 1/2 oz!!! No, that is not a typo, 1/2 oz. This is the only pipe that you can put on your outboard, pointing straight aft, that will not upset your tunnel boat's critical balance. This pipe is just at home on an inboard hydro, and can save you up to 2 ounces of weight, lowering your boat's center of gravity.
Although this pipe was designed for boat racing, you may also use it on R/C aircraft. It works great on .15 to .21 engines and really performs great, just ask for the "long version" when ordering.
At this time AE Composites will not guarantee the useful life of this pipe. However, our inboard test pipe lasted 2 racing seasons in both racing and testing conditions. This pipe is showing signs of slight "necking down" or contracting underneath the silicon coupler, yet performance remained unchanged. Our outboard test pipe on a B outboard tunnel (K&B, modified) is still showing no signs of damage or wear of any kind after approximately 6 gallons of fuel (65% nitro) used in both testing and racing conditions. This particular pipe has out-survived 2 engines and took a direct hit from another boat and is still in competition! While this testing is on-going, we cannot predict the results of the individual user. Speed and performance does not come cheap or easily, there are always tradeoffs in racing, but after you weigh all factors, we feel that this pipe is the best overall 3.5 cc pipe in the world today.
To Order AE Products -
To Request Additional Information from AE Composites - Click Here !
Contact MWD & Associates via E Mail at: